Traditional Halloween Treats
With Halloween just around the corner, our thoughts naturally turn to the popular treats associated with the holiday. How about caramel-dipped apples? Or Jack-O'-Lanterns full of chocolate bars and lollipops? Popcorn balls are always a hit with the kids, and so are striped candy corn dressed in yellow, orange and white.
But traditionally, it wasn't about sugar-sweet indulgences and guilty pleasures. In fact, the foodstuffs associated with the three days of Allhallowtide – Halloween on October 31, All Saints' on November 1, and All Souls' on November 2 – took on a totally different genre. Read on for a look at some of the holiday's original dishes.
Potato Pancakes, or Boxty. The Irish are known for their potatoes, which strikes us as no surprise that potato pancakes made for a typical Halloween meal. Combine raw grated potato, leftover mashed potato and flour with milk, baking powder and egg to yield a small but dense griddle cake. Fry it on both sides like you would any ordinary pancake, and slather it with butter (or maple syrup if you're feeling festive!). The batter can be diluted with water to form crepes, which can then be used as wraps for any stuffing of your choosing. If you want to pack in some oomph to your Boxty, add mashed garlic, herbs or spices.
Colcannon. Here's another potato derivative, drawing on the mashed root and either kale or cabbage for a beautifully verdant-streaked dish. Blending it with milk, cream or butter will don it a silky rich consistency, whereas olive oil will give it a more Mediterranean profile. Toss in onions or leaks for a welcome zing! An age-old Irish ritual is to serve Halloween Colcannon with perhaps a ring, a thimble, and some coins. If you unearth a ring in your bowl, you're predicted to be married within the year, whereas a thimble forebodes that you will die unwed!
Soul Cakes. Small, round cakes usually scented with allspice, nutmeg, cinnamon, ginger, raisins, and currants, these dainty delights were marked with the sign of the cross as alms, or offerings to the poor and, of course, determined children. The practice of giving and consuming soul cakes lives on in a number of countries, namely Portugal where they are known as Pão-de-Deus and resemble a soft brioche roll crowned with coconut and sugar. Barmbrack, a fruity tea bread that has charms baked into it, perhaps embodies the modern-day rendition of soul cakes.
Toffee Apples. Characteristically sold in fairs, these apples (preferably of the Granny Smith variety) are coated with hard, brittle-like toffee emanating from heat-treated sugar syrup. The shell is admittedly hard and falls off when it cracks, making this aesthetically pleasing delicacy rather a challenge to bite into!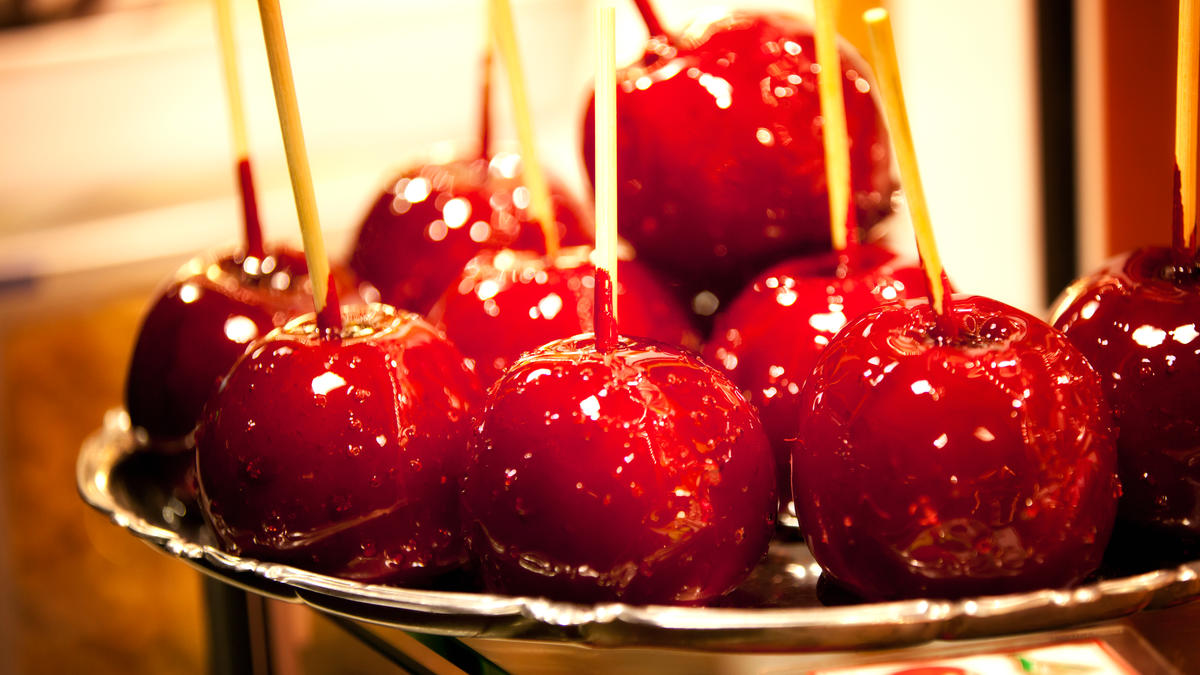 Tanghulu, or Chinese candied fruit. To circumvent the cracking and peeling witnessed with toffee apples, the Chinese incorporate the mountain hawthorn, or Chinese haw (shanza), a small fruit endemic to the region. They then thread them onto a skewer and submerge them in a similar sugar syrup bath before allowing them to set. For obvious reasons of inaccessibility, one could substitute small fruit like mandarin oranges, strawberries, blueberries, pineapple chunks, kiwi slices, banana coins, and grapes.
Contributed by Danielle Issa from Beirutista.co.