When Comfort Food is All You Seek
In the beautifully chaotic, occasionally reckless jungle we live in, a bad day can seem pretty typical. You know the sort: traffic's a total gridlock, there's not a parking spot closer than four blocks away, the office coffee pot hasn't a drop of caffeine elixir remaining in it, and you forgot your sack lunch in the car, left to bake under the sun – but who's going to fetch it? After all, it's a kilometer away, times two for the return journey.
Such a sequence of misadventures might strike you as inconsolable, but food – comfort food – can be the answer. The kind that caresses your gut and releases dopamine into your blood flow. Here's a list of our favorite Lebanese comfort food.
You thought fries were the ultimate comfort food? Chuck the spud and go for the more sophisticated veg. We're talking zucchini, eggplant, carrot, cauliflower, even bell pepper. Slice and plunge into a vat of frying oil, wrap in supple Arabic pita bread, and drizzle generously with tarator, or tahini with mashed garlic and a squeeze of lemon. Now that's real soul food!
Caramelized onions can lift the blandest of dishes, and nothing epitomizes that more than mdardara. The vegan Lebanese rice lentil pilaf, popular during Lent, is a mix of boiled lentils and rice blanketed with caramelized onions. Pair with a lemony slaw of shredded cabbage and diced tomato, and this dish is capable of filling large gaping holes of distress. Some prefer its sister dish, mjaddara, which resembles a dense porridge.
Nothing spells nourishing like a slimy mloukhieh stew cooked with tender chunks of lamb, the kind that slide off the bone and ease their way effortlessly through your mouth, down your esophagus and into your paunch. Mloukhieh, or Jew's Mallow in English, is characteristically animated with diced onions in a white vinegar bath and topped with toasted pita chips. Served alongside white rice, it is a heartwarming meal that will soothe the most tempestuous of days. Photo 3
Picture this: strips of fat and seasoned meat stacked in alternation are slowly roasting on a rotating spit in front of a flame for hours on end. The meat laps up the fatty juices, becoming indescribably tender and flavorful. As it continues to rotate, meat is shaved off the skewer and into a pita sandwich to be slathered with garlic paste or tahini and veggie fixings: in the case of chicken, fries and pickles; beef and lamb call for fresh parsley, onions and sumac. That's a classic shawarma, and if it doesn't touch the depths of your core, you aren't Lebanese.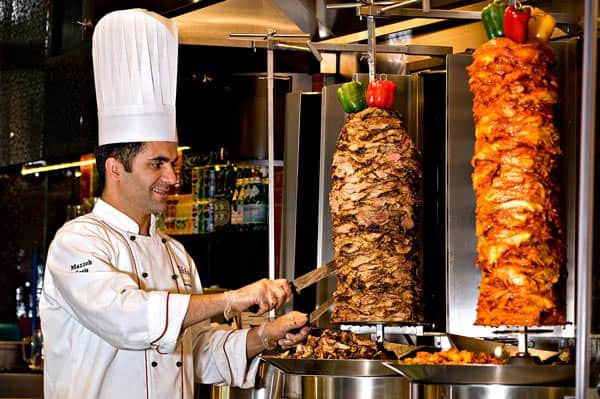 Beans on toast are a godsend to the British. Americans cherish their sweet beans doused in barbecue sauce. And to the south of the border, Mexicans adore refried beans. In the Levant, and particularly in Lebanon, we love our boiled fava beans, or foul mdammas, and we sometimes mix them with the odd chickpea to make msabba7a. Top with tahini, smashed garlic cloves, and a pool of olive oil, and you're halfway there. Garnish with fresh spring onions, juicy red tomatoes, and crisp radishes, and you've tasted euphoria.
Contributed by Danielle Issa from Beirutista.co.